Beyond walls to connect across sectors, professions, and institutions.
Beyond headlines to seek insights for creating practical paths forward.
Beyond solutions to facilitate relevant, effective and engaged decisions and processes.
CESBC Full-day workshop  
 
(Originally April 17th  Vancouver, BC; Being rescheduled to support distancing)
Are you getting all you can from Excel? Do you want to learn how to efficiently summarize your data and create data visualisations that engage? Do you want to up your data viz skills?     Join us!
In this hands-on workshop, you will:
Create pivot tables in Excel and adapt them to answer emergent questions.
Create charts and visuals that auto-update from refreshed pivot tables.
Use conditional formatting and pivot tables to create heat maps.
Theme basic qualitative data in Excel and summarize it with pivot tables.
This workshop is intended for individuals familiar with Excel. Bring your own laptop and ensure your version of Excel has the option for pivot tables. Internet access and power provided.
Higher Education and Beyond Webinars are designed to be professional engaged learning spaces with interaction and questions. They are not recorded. A summary slide is provided to attendees.
90 minute Webinar
Spring 2020 (date pending)
Let's talk stats. Feeling uncertainty when you hear those words? This session is for you. We outline and practice key questions that professionals, leaders, and stakeholders can use to request and confirm planned analyses and discuss results. Feeling joy at the thought of statistics? This session's questions support analysts, evaluators, and others who use statistics frequently to clarify expectations with stakeholders.
For more webinars about change, learning, statistics, evaluation and more...
The Moment When Change is Exciting & Entangled
There comes a moment when change feels both exciting and also so much work, when doing nothing will only be an option for a short bit longer at most or ignoring a call to step up from a partner is no longer a viable option. The impetus is there but not the clear plan, the right approach or a shared vision to move it forward, so the item sits each month on the agenda, on the side of our desks, and on the pile that someday we will get to. That still is an option. This is about another option. The option of requesting an initial phone call or Zoom conversation, of talking through the sticky points and finding your next step.
Of finding the team that can make it happen. The people that will work with you and between the meetings to engage the many voices and get you the perspectives and insight your group needs to make decisions. The people who can raise key questions to untangle the stuck knots and identify key options that unlock the next step making movement forward possible.
So you can move beyond where you thought you could get to and get approvals and implement strategies, programs, and evaluation plans that change your organization's engagement within and standing in the eyes of others.
It's possible, and more importantly you're ready to move beyond.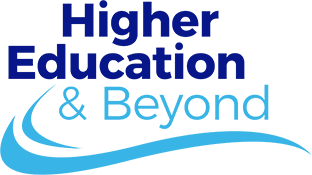 Higher Education & Beyond Team
Experienced qualified professionals work with you to meaningfully identify needs and vision for your context to create opportunities and processes that are relevant, useful and focused.
Carolyn Hoessler, Ph.D., C.E.
I help people discover better ways to discuss, create, and assess decisions.
Senior Specialist, Founder of Higher Education & Beyond.
Experienced facilitator, credentialed evaluator and consultant, Carolyn works with academic and association leaders to navigate and untangle curriculum design, evaluation and change. Drawing on a combination of skilled facilitation of diverse groups, respect for human-scaled timelines, and advanced yet approachable deep insight into quantitative, qualitative and mixed-method analysis and reporting to further change, Carolyn engages people in decision-making, assess contribution, and evidence value.

"Relevant", "engaging", "effective", "quick" and even "fun"! is what faculty say about process and decision-making meetings I facilitate.

Patient, helpful guidance through university processes I co-navigate.

Professionals find themselves "enjoying" the learning, even statistics,  in workshops I offer.
Higher Education & Beyond Affiliates
Patrick Milot, M.Sc.
A Participatory Approach to Quality Assurance processes and Curriculum Continual Improvement
(French, English)
Brian Hoessler, M.A.
A Collaborative Approach to Program Logic Models and Theory of Change, Evaluation, Non-Profit Board Governance, and Stakeholder Surveys
(English)
Better Initiatives, Better Decisions, Better Reporting
New initiatives spark exciting potential for change. Create conditions for aligned designs and successful launches. Identify key principles, leverage supportive and navigate hindering forces in your context.
Focused facilitation, clear process, meaningful engagement, and intentional principle and data development shift ongoing arguments into constructive informed decision-making for changes that people can see themselves in.
Timely and relevant information can inform key decision-makers. Co-construct criteria and expectations for even better engagement. Leverage purposeful data visualizations, identified outcomes,  and efficient gathering and reporting processes.
Experience teaches us that change, particularly change with people is not always a clear path. Institutions, associations and organizations, are shaped by their community who often have diverse perspectives. This quality is what creates the day to day possibilities, it can also challenge intended change, decision-making and initiatives. So we are here for that initial conversation to unpack and the journey to untangling, visioning and creating with you, with all of your people.
Many voices can get messy, but without those voices what you create rarely grows
We honour the many opinions and perspectives

We work comfortably within the paradox of how can both be possible

We engage and listen so people feel and are heard in healthy and constructive ways and their hope and fears both shape the final plan or vision

We believe people need to see both their hopes and their fears represented and spoken about in the principles we derive that guide the work.
It needs to be grounded in an understanding of the context, of scholarship and of wise practices, while also being practical
We work with you, walk with you and fine tune with you because you know your context and your organization

We draw on expertise through collaborators, landscape scans and focused literature reviews, as well as engaging members of your organization and leadership teams
The resulting change needs to have a meaningful cohesive vision with a clear plan
We believe the resulting strategies, processes, and plans should last well after all have left the project with no papering over, and no duct-tape required

We work to identify considerations and principles from across all perspectives because those who look beyond the organization and those who keep track of the details both know key requirements for this initiative to succeed

We need each person involved to see their part in the plan and to feel it makes sense and is viable
Launching a new initiative? Balancing differing opinions? Asked to demonstrate effectiveness or value?  Email to connect! Clearer paths, better decision-making and reporting are just around the corner.